Alwaght- South African police are hunting for three suspected Takfiri terrorists who slit the throat of an imam and stabbed and seriously injured two other people at a Shiite mosque.
The attack on Imam Hussein AS mosque on Thursday in Verulam, a town 27km north of Durban, left the Muslim community outraged and demanding answers.
Major Bheki Langa, KwaZulu-Natal province's acting police commissioner, said in a statement the motive was still unclear. The assailants also set the mosque on fire before escaping in a getaway vehicle.
"Such criminality cannot be tolerated. A team of investigators has been dispatched to solve the case and bring perpetrators to book," Langa said.
Emergency rescue services said the imam's throat had been slit and he later died, while the two other men had been stabbed. Both victims were in hospital in critical condition.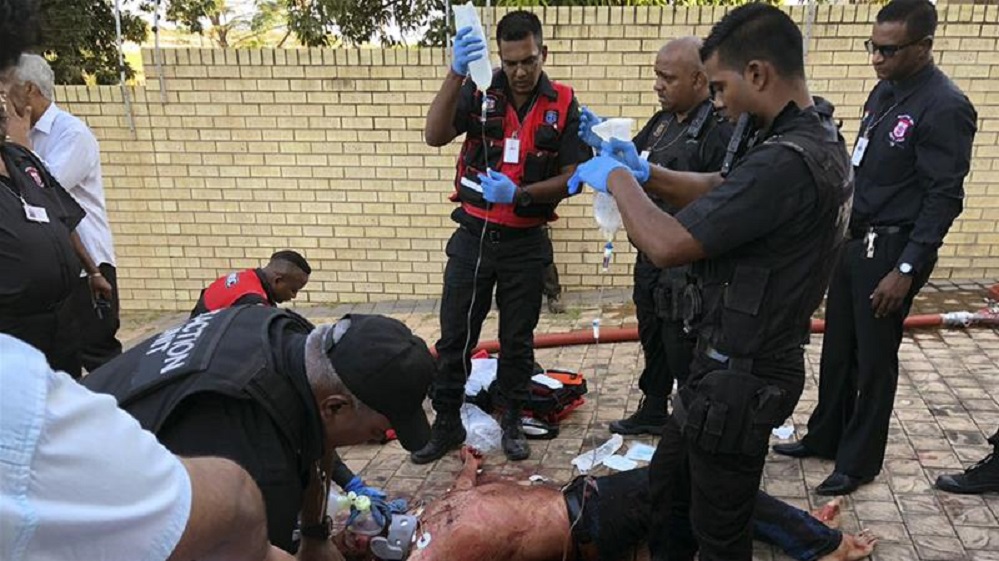 The Muslim Judicial Council denounced the bloodshed and said the core of Islamic teachings and principles are "respect for all human beings".
Islamic scholar Shaykh Rafeek Haseen told community radio station Voice of the Cape that Durban's Muslim community is in shock and urged people not to jump to conclusions.
"It may be a case of money laundering or a personal issue between the perpetrators and the victims. I do not think we should jump to conclusions that this attack is motivated by sectarianism," said Haseen.
The United Ulama Council of South Africa denounced "these grievous and vicious attacks".
Muslims make up about 1.9 percent of South Africa's 55 million population, with most following the Sunni Muslim denomination. Attacks on mosques are extremely rare, but observers note anti-Shite rhetoric has been on the rise over the past few years, especially on social media.
Farid Sayed, editor of the Muslim Views newspaper based in Cape Town, said there have been attacks on mosques before, but usually from the "racist, white right-wing".
Takfirism is largely influenced by Wahhabism, the extremist ideology officially practiced in Saudi Arabia and freely preached by the regime-paid clerics. Takfiris believe Muslims, both Sunnis and Shiites, who do not adhere to their perverted view of Islam are non-believers who should be killed. All leading Takfiri terrorist groups in the world such as ISIS, Taliban, al-Qaeda, al-Shabaab and Boko Haram adhere to the Wahhabi ideology.