Alwaght- Hundreds of people have taken to the streets of Manila on Friday to protest against US President Donald Trump, ahead of his weekend visit to the Philippines.
Activists held placards with signs including "Ban Trump – Fight US Imperialist War and Plunder" as they marched to the US Embassy.
The activists were blocked by scores of the capital's police kitted out in anti-riot gear just yards from the building. Minor scuffles broke out when protestors tried to break through the cordon.
During the demonstration, protestors chanted anti-US slogans including, "Trump, not welcome' and "Fight US imperialist war".
Others carried out symbolic acts – such as splashing black paint across a poster of Trump which branded him a "fascist".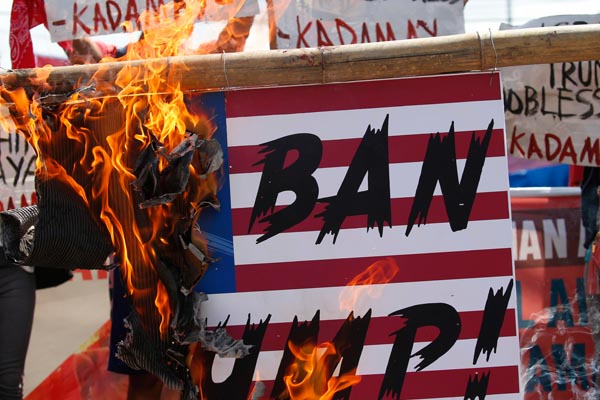 Protesters from rallied outside Trump Towers in Manila, claiming the US president had the intention of using the Philippines' territory to install more American military bases and that his heightened involvement in the country's affairs could drag them into war.
"Trump represents the worst aspects of US imperialism," Bayan said in a statement. "Trump seeks to maintain the grossly unequal relations between the US and the Philippines. He is right now the biggest threat to regional peace with his provocations against North Korea."
In the southern Philippine city of Cagayan de Oro, the League of the Filipino Students-Northern Mindanao Region, a militant student group, displayed their condemnation of the US-Philippines relationship by burning American flags and images of Trump.
Trump touches down in Manila on November 12 and there are more mass protests expected upon his arrival.
The Philippines – a former American colony – has previously had a turbulent relationship with the US, with President Duterte having frequently called out former US President Barack Obama for meddling with the country's domestic affairs.
Despite activists having long criticised the US for what they see as an unrelenting American control over the Philippines, Duterte changed his stance toward the US after Trump's inauguration last year.
"I don't want to quarrel anymore," Duterte announced the day Trump won the US elections. "He does not call me out over my campaign about human rights."
From November 10 – 14, the Philippines will host the 31st Association of Southeast Asian Nations Summit and related meetings.